YOUR RUNDOWN
Running low on donor corneas? Japan is growing their own now.
A research team in Japan has performed the first transplant for corneal disease using reprogrammed stem cells.
What do you mean by "reprogrammed stem cells"?
They are called induced pluripotent stem (iPS) cells and they're made by reprogramming adult skin or blood cells from a donor into an embryonic-like state. From there, they can transform into other cell types for therapeutic purposes.
Tell me about the case.
The researchers grew sheets of iPS cells and transplanted them in a 40-year-old patient with limbal stem cell deficiency. According to the team, the transplant was performed 1 month ago. The cornea has remained clear and the patient's vision has improved.
Why is this a big deal?
People are talking because it's the first time anyone has done this and the potential applications are huge. Also, in places like Japan, where there is a shortage of donor corneas, being able to grow one could help ease that burden.
When might this be available in the clinic?
This trial will consist of four patients and researchers plan on transplanting a second cornea later this year. The team hopes this can be available in the clinic in 5 years. (via)
---
IN OTHER NEWS...
Visibly, formerly Opternative, is no longer offering online refractions on their website after receiving a recall notice from the FDA. The notice cited the company's lack of 510(k) clearance and their failure to submit a marketing application. (via)
---
WHAT YOUR PATIENT MIGHT ASK YOU
What are the risk factors for developing AMD?
We all know that age, smoking, gender, family history, and other factors can increase one's risk, but we might need to add exhaust fumes to the list.
A new study found a connection between air pollutants and AMD.
Tell me about the study.
Using Taiwan's Health Insurance Database information, the longitudinal study included almost 40,000 patients and followed them for 11 years. Of those patients, 1,442 developed AMD. The research team also used the Taiwan Air Quality Measuring database to determine the level of pollutant exposure for each patient.
What did they find?
After accounting for other factors that might influence the risk of AMD, the researchers determined that people living in areas with the highest levels of vehicle-generated pollution were 84% more likely to develop AMD compared to those exposed to the lowest levels. (via)
---
SOCIAL MEDIA ROUNDUP
Once you pop, you should probably stop.
A teenage boy went blind from nutritional optic neuropathy after years of eating only Pringles, french fries, white bread, and potato chips. (via)
September is Sports Eye Safety Month.
According to Prevent Blindness, there are thousands of eye injuries per year related to sports and hazards around the house. Get your social media ready this month.
---
OD HIGHLIGHT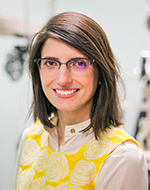 This week, I want to highlight Jennifer Lyerly, an optometrist in North Carolina. Dr. Lyerly is the author behind Eyedolatry, a blog dedicated to patient education on trending topics in eye care and resources for ODs on topics ranging from troubleshooting orthokeratology fits to writing antibiotic prescriptions for pediatric patients. She is also the cohost of the Defocus Media podcast, sharing industry news, insights, and inspiring stories of optometrists innovating in their careers. Great work, Jenn!
Want to be highlighted here? Email me! I love featuring ODs doing cool things!
---
Do you like free stuff?
Take this 5-minute survey and you could win an iPad, Apple Watch, or $100 gift card!
See you next week!