YOUR RUNDOWN
What is the best concentration of atropine for myopia control?
According to an extension of the LAMP study, atropine 0.05% was found to be the optimal concentration.
What is the LAMP study?
It stands for Low-concentration Atropine for Myopia Progression. The study tested the efficacy of three different concentrations of atropine (0.01%, 0.025%, and 0.05%) on slowing myopia progression. LAMP, initially a 1-year study, was extended to 2 years to assess the efficacy and safety of these low concentrations of atropine over 2 years. The results were just published in Ophthalmology.
How are they measuring efficacy?
The primary outcomes were between-group differences in spherical equivalent and axial length.
Why are they testing different concentrations?
Because they want to find the concentration with the best treatment-side effect ratio. In this 2-year study, the authors found 0.05% atropine to be twice as effective as the 0.01% atropine with no change in the side effect profile.
What's next?
The researchers are going to extend the study for another year and evaluate their findings again after year three. Per one of the study authors, "While our current report confirmed that 0.05% remained the optimal concentration over two years, our third year will look into its efficacy over three years, and also whether treatment should be continued or stopped at the third year." (via)
---
WHAT YOUR PATIENT MIGHT ASK YOU
Does sleep apnea affect my eyes?
Yes, in more ways than one. A new study published in Cornea studied 32 individuals with sleep apnea and compared them with 27 controls. Tear break-up time and Schirmer testing were measured in both groups and meibography photos were also taken.
What did they find?
The research team found a reduced tear break-up time and more meibomian gland loss in patients with sleep apnea.
SOCIAL MEDIA ROUNDUP
Name a medical visit that patients think is expensive.
Did you say eye care? Ding ding ding!
More than one-third of people in a recent survey revealed that cost is a reason why household members do not visit an eye doctor as often as they would like.
OD HIGHLIGHT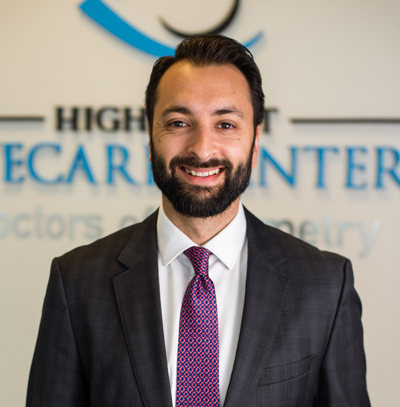 This week I want to highlight Harbir Sian, OD, an optometrist in Vancouver, Canada. In addition to owning two private practices, Dr. Sian is always looking for different ways to be an ambassador for optometry and spread knowledge about the importance of eye care. He started with writing weekly blogs years ago for his website, Aboutmyeyes.com, and eventually transitioned to YouTube videos with his famous sidekick/alter ego, Dr. Eyenstein. Most recently, he started The 20/20 Podcast, which shares stories from successful individuals in different industries (eg, professional athletes, TV personalities, entrepreneurs, etc) with the goal of inspiring ODs to reach outside of our profession to collaborate and grow. He is also on the board of a local organization called The Eyeglasses Project, which coordinates mobile vision clinics for the homeless and other at-need populations around Vancouver. After all of this, it's no wonder he was named BC Doctors of Optometry Young Optometrist of the Year in 2016! Great work, Harbir!
Want to be highlighted here? Email me! I love featuring ODs doing cool things!
See you next week!