YOUR RUNDOWN
Topical treatment may be an option for macular holes.
A small study published in Ophthalmology Retina evaluated the success of full thickness macular hole closure with topical therapy.
Tell me about the study.
The study included nine eyes of patients with secondary full thickness macular holes. All holes had evidence of epiretinal membrane and intraretinal fluid/cystoid macular edema (CME). The average macular hole diameter was 79.6 μm, which is considered relatively small. All patients received difluprednate (Durezol) with the addition of a topical carbonic anhydrase inhibitor in six eyes and nonsteroidal anti-inflammatory drug (NSAID) drops in two eyes. Dosing for difluprednate varied between TID and BID, which was gradually tapered.
How did they do?
Eight eyes (89%) achieved successful hole closure and resolution of CME with improvement in visual acuity after an average of 6 weeks of therapy (range, 2-19 weeks).
Were there any adverse events?
One patient had mild keratopathy and elevated IOP while on a topical NSAID and difluprednate. The keratopathy resolved with cessation of the topical NSAID and IOP normalized upon reduction in difluprednate frequency to once weekly.
How did the holes close with just drops?
The rate of closure with topical therapy alone was so high, it suggests that simply treating the CME, which was present in all eyes, was sufficient to allow for hole closure. The thought is that re-apposition of the edges of the hole from reduction of intraretinal fluid/inflammation may have created the scaffolding necessary for the retinal layers to fill-in and close the hole.
The take home:
Topical therapy is typically well-tolerated with a favorable risk profile. Clinicians may wish to consider a trial of topical therapy in patients with small secondary full thickness macular holes, for example, while awaiting scheduling for pars plana vitrectomy.
Legislation update.
Idaho ODs might be able to perform some laser procedures. The bill just passed in the House and is now going to the Senate.
Don't be the cause of the EKC outbreak.
The Los Angeles County Department of Public Health investigated an epidemic keratoconjunctivitis (EKC) outbreak that started in an optometry office in 2017. The investigation found suboptical infection control procedures. This serves as a nice reminder to tighten up your protocols.
---
WHAT YOUR PATIENT MIGHT ASK YOU
Can I undergo LASIK surgery if I'm breastfeeding?
A new study published in Cornea says yes. The research compared the outcomes of 71 breastfeeding women to 47 women who stopped breastfeeding 3 months before having LASIK or PRK.
Why would this be a concern?
Initially it was thought that fluctuating hormone levels in breastfeeding moms could alter the outcome for LASIK and PRK. The other concern was the potential risk to infants from medications that can pass through breast milk.
What did the study find?
It found no significant complications and no significant differences between the groups in visual acuity, postoperative spherical equivalent, efficacy index, predictability, safety index, or retreatments. No infants experienced adverse effects.
---
SOCIAL MEDIA ROUNDUP
A silver lining to congenital blindness.
People born blind are mysteriously protected from schizophrenia. (via)
Coronavirus.
If you're wondering what precautions you need to take for your office, check out the CDC website.
---
OD HIGHLIGHT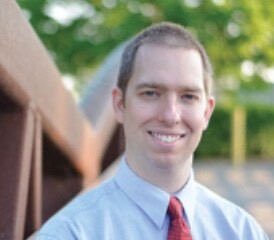 This week I want to highlight Ryan C. Gustus, OD, a private practice optometrist in Indiana. Ryan has had a leadership spirit since optometry school. He started the Indiana University Private Practice Club while in school and has been the Indiana AOA State Membership Chair. He has also lectured at several conferences on a variety of topics, ranging from OCT technology to sales psychology. His leadership experience turned entrepreneurial once he started seeing patients in his practice. After feeling frustrated with all of the time he spent talking with patients about contact lenses, but not capturing the sale, he co-founded Lensquote, which essentially quotes contact lens pricing. Congratulations Ryan for seeing the need and developing a solution!
Want to be highlighted here? Email me! I love featuring ODs doing cool things!
See you next week!