YOUR RUNDOWN
We may have a new anti-VEGF medication soon.
Brolucizumab, or—equally as difficult to remember—RTH258, was shown to be just as good as Eylea in new phase 3 trial results from the HAWK and HARRIER trials, which followed over 1800 patients in over 400 sites worldwide.
Why do we need this if it performs the same as Eylea?
Well, there is more to the story. Vision improvement was similar between brolucizumab and Eylea but the decrease in central subfield thickness (aka retinal fluid) was significantly greater with brolucizumab than with Eylea. Another important point is that brolucizumab also required less-frequent injections with the dosing every 12 weeks after the initial loading dose.
How is brolucizumab different from the other anti-VEGF options?
There are three main differences:
1. It's molecular size.
2. The drug concentration.
3. The time between injections.
Brolucizumab is the smallest anti-VEGF molecule tested in humans to date. The small size allows for better tissue penetration and the ability to administer higher drug concentrations. These two things lengthen the treatment effect, increasing the time between injections. Brolucizumab has already been submitted to the FDA for priority review. If approved, Novartis plans to launch by the end of this year. (via)
---
Avenova too expensive for your patient?
Direct them to Amazon. NovaBay Pharmaceuticals announced that you can now purchase Avenova on Amazon for $30, no prescription required. (via)
And while we're on the topic of OTC, there are two other eye care products you may start seeing at CVS.
1. We Love Eyes. This was previously only available through the We Love Eyes website or on Amazon, but has now made it to the shelves of CVS.
2. OCuSOFT Lid Scrub Allergy. This is a new lid scrub made specifically for the treatment of allergy symptoms. According to the company, it "removes oil, debris, pollen and other contaminants from the eyelids while utilizing Green Tea Extract, Tea Tree Oil and PSG-2 (Phytosphingosine) to effectively reduce redness, inflammation, and itching of allergy eyelids." (via)
---
WHAT YOUR PATIENT MIGHT ASK YOU
Could cataract surgery make my AMD worse?
It might, according to new research presented at ARVO.
Tell me about the study.
The researchers looked at 50 eyes of patients with various stages of AMD (mild, moderate, severe, and wet). Twenty-five of these eyes underwent cataract surgery within two weeks of their AMD diagnosis, while the other 25 deferred surgery until the 12-month visit.
What vasculature did they look at?
They took 3 x 3mm and 6 x 6mm sections centered around the fovea. The OCTA software analyzed the vessel density (VD) and perfusion density (PD). They also acquired a 512 x 128 macular cube and 200 x 200 optic disc cube to be analyzed.
What did they find?
They found that 18 of the 25 eyes that had cataract surgery within two weeks of diagnosis developed choroidal neovascular membranes (CNV). Half as many of the group that waited for cataract surgery progressed. (via)
---
SOCIAL MEDIA ROUNDUP
Short people, do you wish you could see over the crowd?
A British man designed a pair of glasses to help you.
Not even parasites can keep this kid away from summer fun.
A 12-year-old boy gets parasites in his eye after swimming in a lake, states he will wear goggles next time. (via)
---
OD HIGHLIGHT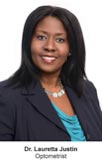 This week I want to highlight Lauretta Johnson, an optometrist practicing in Florida. She is the founder of Optometry Divas, an organization designed to empower, connect, and promote the success of women optometrists. She started it 3 years ago as a way to connect with other female ODs in her community and it has since expanded outside the Florida area. Listen to her podcast here! Congratulations Lauretta!

Do any of you have a side hustle you're passionate about? I want to highlight you here! Reach out and share it with me!
Thanks for reading! See you next week!